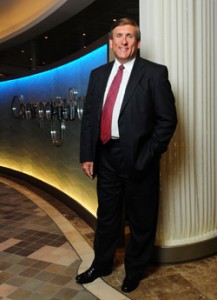 Jim McComb devoted three decades to some of America's largest companies as a finance, marketing and strategy executive. Before retiring in 2011 as a Senior Vice President of Finance for a Fortune 100 company, he was among America's foremost strategic planners, earning certification as a Strategic Management Professional, serving as national president of the Association for Strategic Planning and being inducted into their Hall of Fame in 2009. He is an expert in Next Practices and developed the seven-step process used by the Executive Next Practices Institute in Los Angeles.
An accomplished platform speaker, he continues to deliver keynote addresses at business summits and conferences in addition to his work with the Institute, a think tank of C-suite executives representing a broad cross-section of Southern California industries. He is still retained by companies seeking consulting guidance in marketing, cultural change and strategic management, and is occasionally engaged by entrepreneurs and senior executives in need of his coaching guidance.
Although still in demand as a business coach, consultant and keynote speaker, Jim's focus is on sharing his Undiscovered Horizons experience, helping people worldwide discover and fulfill their own unique God-given Personal Destinies. With the June 2013 release of Undiscovered Horizons, Jim will begin sharing his experience and his message in keynote speeches at conferences, colleges, churches and corporate events across the country. He will also lead workshops, taking participants step-by-step through the process of identifying their own Personal Destinies and providing planning tools to help them chart a course for fulfilling those Destinies. Jim will also make himself available to coach those who want one-on-one guidance through the process.
Jim and his wife, Sally, live in Southern California and are the parents of two married daughters, one of whom has a 3-year-old daughter of her own.