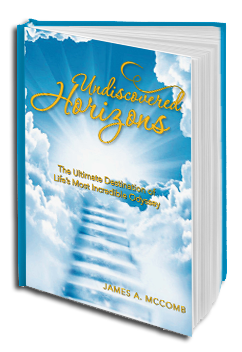 Undiscovered Horizons: The Ultimate Destination of Life's Most Incredible Odyssey is more than a book. It's a personal letter written directly to anyone who wants to live a life of meaning and fulfillment…who wants to live a life of service…who wants to live the life that was pre-destined for them before they were even born. Undiscovered Horizons is the story of my journey to Heaven when I died on a hospital operating table, and of what I learned there about my own unique Personal Destiny and about how to help you find and fulfill your Destiny.
The book is divided into thirteen chapters and includes five appendices. Chapter One, Life: It's No Accident, offers evidence that our lives are not a series of random coincidences, but are instead a well-orchestrated collection of experiences designed to facilitate the fulfillment of our unique Personal Destiny. Free will often gets in the way though, and many of us live our entire lives oblivious to the fact that we are here for a very specific reason. Chapter Two, Undiscovered Horizons, offers evidence that, for all of us, there exists a Personal Destiny – an Undiscovered Horizon – that awaits us if we commit ourselves to searching for it.
Chapter Three, Rules of the Road, defines what Destiny looks like so we'll know when we find the "genuine article," and Chapter Four, The Five Keys, is the first of the six chapters that are the heart of the book. It introduces the Five Keys that unlock the secret to discovering our own Undiscovered Horizon.  Chapters Five through Nine discuss each of the Five Keys in detail and relate them to the life of the reader.
Titled Horizon Discovered, Chapter Ten helps the reader define the specific Station of Destiny unlocked by the Five Keys in their own life, and paints a picture that illustrates how God endows each of us with a Station of Destiny before we're born.  The Power of One, Chapter Eleven, describes the positive power, influence and impact we alone can have on the lives of others, and how that impact makes our Destiny unique, Personal and specific for every single person on earth.
Life's Most Incredible Odyssey is the title of Chapter Twelve, which reveals every step we must take in order to move beyond the Horizon . . . beyond simply discovering our Personal Destiny.  Chapter Twelve–and the book's five appendices–provide the framework for Life's Most Incredible Odyssey, which is the journey toward the Ultimate Destination   . . . fulfillment of one's earthbound Personal Destiny.
The final chapter, The Ultimate Destination, offers a final, urgent call to action for the reader to fulfill their unique role as the most important person in the world–their earthbound Personal Destiny–now that their Horizon has been discovered.